Puerto Rico and the U.S. Virgin Islands continue to suffer through the worst blackout in U.S. history after Hurricane Maria rocked the region more than seven weeks ago. But some of the brightest spots in the otherwise slow, scandal-plagued recovery have have come from solar. And there's a new push to turn the sun into energy.
On Wednesday, the Solar Foundation announced that it's sending $5 million in donated equipment to the battered U.S. territories as part of the Solar Saves Lives initiative.

The name is accurate. Doctors have been performing surgery by cell phone light and water filtration systems have been failing off and on due to intermittent power. Food security is also an increasing concern as aid has been slow to arrive and Puerto Ricans have been unable to access programs that supported other Americans in the wake of Harvey and Irma.
The Solar Foundation has partnered with Direct Relief, Operation Blessing, the Clinton Foundation, and others to get solar power to the places that need it the most. Avery Palmer, a spokesperson for the Solar Foundation, said the nonprofit has worked with local partners to identify 62 rural health clinics as well two large food markets in Puerto Rico.
"San Juan Mayor Yulin Cruz spoke with Operation Blessing International, one of our partners on this effort, and identified the markets as crucial parts of the city's overall recovery," Palmer said. "The markets provide an essential food service and without them, conditions for vulnerable populations in San Juan worsen every day.
G/O Media may get a commission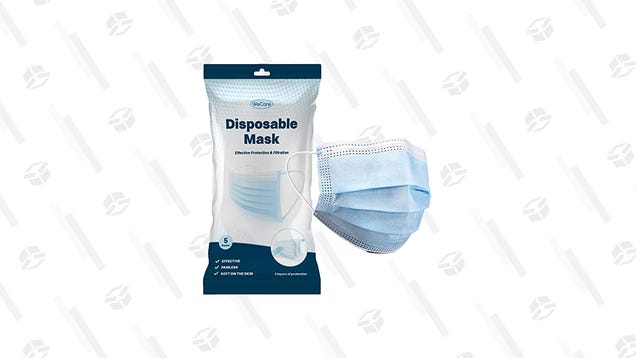 WeCare Disposable Masks With Elastic Earloops- 5 Pack
"The donated equipment will range from portable equipment such as solar flashlights and solar powered mobile generators, to permanently installed solar panels and solar systems with battery backup."
The immediate relief impact of solar flashlights and generators is vital to helping stave off a public health crisis, and give people a small sense of normalcy back. In Puerto Rico, 58 percent of the island still doesn't have power due to a slow federal response and challenges dealing with the remnants of Puerto Rico's archaic grid. As much as 80 percent of the U.S. Virgin Islands are without power as of the end of last month.
But permanent solar panels and backup systems will ultimately be key in setting up Puerto Rico for the future and for a modern grid. Before Maria, the island got 98 percent of its electricity from fossil fuels, including an astounding 47 percent from oil.

That has to change, both because it's an incredibly costly and inefficient way to generate electricity, but also because the world is going to have to run on renewables to reduce the impacts of climate change, including extreme storms like Maria. The backup systems will also be key in ensuring that when storms do hit, Puerto Rico and the Virgin Islands don't suffer a blackout like this ever again.
The foundation is currently bundling all the equipment for mass delivery and while there's no specific date for shipments to head out, Palmer said "our sense of urgency remains very high." Once equipment reaches the islands, contractors are lined up to install it once it. The effort follows similar work by Tesla, which installed a solar system to get the lights on in a San Juan children's hospital last month.
It's a step in the right direction, but it's just the tip of the iceberg of what's needed.