The caribou herds that graze the expansive, treeless tundra lands of northern Canada have declined perilously since the 1990s. Now, a team of researchers is arguing that the government's response—of placing limits on indigenous subsistence hunting—is misguided. Instead, they say policymakers should focus on the mining activity that's degrading key caribou habitat.

Their arguments, spelled out in a paper published last week in Scientific Reports, mark the latest chapter in a push to recognize the value of indigenous knowledge when it comes to Arctic biology, ecology, and wildlife management decisions. Bobbie Jo Greenland-Morgan, President of the Gwich'in Tribal Council, said the evidence presented in the paper "tells us the [traditional indigenous knowledge] is as valuable and important as we have always said it to be and known it to be."
"It reaffirms and recognizes this," she told Earther in an email.
Caribou have been a cornerstone of indigenous cultures, as well as a staple food source in northern Canada and Alaska, for millennia. These animals fall into dozens of distinct herds, which range in size from hundreds to hundreds of thousands and migrate across vast swaths of land. It is now understood that caribou go through boom-and-bust cycles over the course of decades, with herd recovery thought to be related to how quickly habitat bounces back from the impacts of grazing.

But, as Canada's barren-ground caribou populations have plummeted in recent decades, policymakers have "almost exclusively" focused on restricting subsistence hunting activities, rather than maintaining habitat quality, according to the new paper. This, the authors say, is misguided.
"There are relatively few documented cases in North America and elsewhere where extirpations of species are attributable to Indigenous harvesting," the authors write, noting that northern hunting cultures have "sophisticated rule systems that prevent unsustainable use." Examining 13 years of harvest data from Inuvialuit and Gwich'in communities, the researchers showed that subsistence hunting declined in step with regional caribou populations from the late 1980s to 2000.
G/O Media may get a commission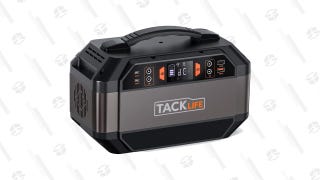 Tacklife Portable Solar Generator
"This adaptation is more than a mechanistic response; people make changes to their harvesting activities based on concern for caribou and for future generations," the authors write.
The authors assert that the real concern is mining activity, which now impacts over 30 million hectares of land (and growing) in Canada's Northwest Territories. They point to a substantial body of research indicating how mining and associated habitat degradation stresses caribou, and specifically call out the Bathurst herd, whose numbers have dwindled from nearly 500,000 to less than 20,000 since the 1990s in a region where mining has increased "exponentially."
The debate over what's driving caribou declines in Canada is also relevant Alaska, where the Trump administration's decision to open the coastal plain of the Arctic National Wildlife Refuge to oil and gas leasing, and to permit construction of a road through the Izembek National Wildlife Refuge, have sparked firestorms of controversy. A recent editorial in The Daily News-Miner penned by a retired Alaskan biologist called it a "huge gamble" to assume the Porcupine Caribou herd, which calves in ANWR's coastal plain each year, could continue to thrive alongside industry.
Industry reps take a different view. In an email to Earther, Tom Hoefer, Executive Director of the NWT & Nunavut Chamber of Mines, called the new paper "disconcerting as it doesn't present a balanced story."
Hoefer said that all the work his organization's industry members do above a land use permit "is vetted by regulators with Aboriginal communities/governments to ensure there are no significant adverse environmental effects to caribou," and that the mining industry is participating with public and indigenous governments in the development of a plan to protect the Bathurst caribou. And as CBC News reports, at least some hunting quotas have been requested by First Nation governments.
The authors of the new paper did not respond to requests for comment.
Greenland-Morgan told Earther that the Gwich'in, who rely on the Porcupine Caribou herd for subsistence, have not been impacted much directly by recent hunting bans, which have been aimed at rescuing the Bathurst herd. But, she said, Gwich'in people are concerned for indigenous friends and relatives, like the people of the Dene First Nation, whose traditional food supplies are being depleted.
She demurred somewhat when asked whether she feels indigenous voices are being heard in the debate over how to manage caribou.
"I will feel they are heard when we see what is being said actually being implemented in the plans and policies," she said.